Schools facing 'national crisis' over teacher recruitment, headteachers' leader warns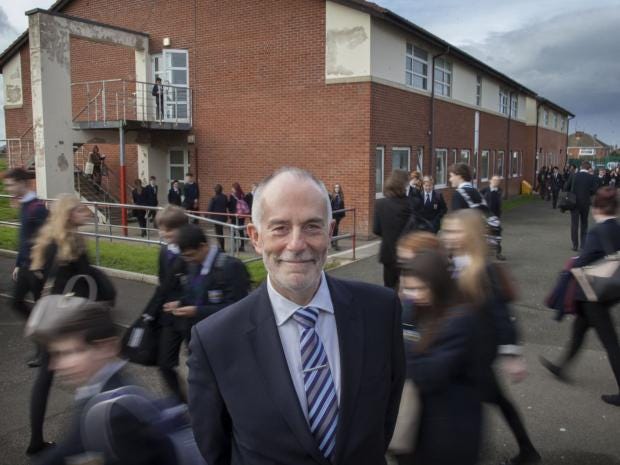 Schools are in the grip of a "national crisis" over teacher recruitment, a headteachers' leader will tell the Secretary of State for Education Nicky Morgan this week.
Allan Foulds, the president of the Association of School and College Leaders – which represents secondary headteachers and college leaders – will warn the shortage of recruits is so severe it is jeopardising the Government's drive to improve standards in schools.
In his address to his association's annual conference on Friday Mr Foulds will draw attention to the shortage of recruits, the exodus of teachers from the profession, and the public spending squeeze which is making it difficult to attract candidates for almost every subject on the curriculum.
In an exclusive interview Mr Foulds, who is the headteacher of Cheltenham Bournside School and Sixth-Form Centre, a 1,700-pupil comprehensive in Gloucestershire, said: "I am under no illusion as to the impact this could have on schools.
"We are in the midst of a teacher supply crisis. I think it has the potential to jeopardise standards in schools."
His comments come on the eve of an inquiry into the shortfall in teacher training recruits by the highly influential Commons Public Accounts Committee tomorrow.
They also follow a warning from the chief schools inspector Sir Michael Wilshaw that teacher recruitment in schools is suffering from a "brain drain" as newly qualified staff take lucrative teaching jobs abroad.

Many of the better paid positions are at satellite schools set up overseas by the UK's leading independent schools – 44 of which are recruiting for staff for foreign campuses – compared with 29 two years ago.
"This is a really difficult issue that has to be grasped," Mr Foulds said. The issue is most acutely felt in the core subjects [maths and science] but not exclusively.
"There are headteachers who are getting very few applications for vacancies or maybe no applications at all. It is very expensive for schools because they have to go through the expense of re-advertising vacancies. It is an extremely serious situation."
Ministers insist that record numbers of recruits are seeking to join the profession. However, Mr Foulds cites a National Audit Office report which showed that recruitment targets had been missed for the past four years. A breakdown of the lack of recruits shows only 41 per cent of design and technology teacher vacancies were filled, only 63 per cent of religious education teacher vacancies were filled and that there were shortfalls in every subject except English, history and physical education. Just under 30 per cent of the 1,055 physics places were also unfilled.
The situation is exacerbated by birth rate surge which is already hitting primary schools and will affect secondary schools in a few years time.
In addition, the Government is consulting schools over promoting the English Baccalaureate (or EBacc as it is known), which is awarded to pupils who gain five A* to C grade GCSE passes in English, maths, the science, a foreign language and a humanities subject – history or geography.
The Government wants 90 per cent of pupils to sit GCSEs in these subjects – while the current figure is around 38 per cent.
"It will mean a lot more humanities and modern foreign language teachers will be needed," said Mr Foulds.
He is also worried that the concentration on the five EBacc subjects will lead to cuts in arts provision, affecting music and drama in schools. "We're concerned that aspects of provision may become a bit limited," he said. "Some of the best and most exciting things that happen in schools come from their music and drama provision."
"I think [the teacher shortage crisis] has been an accelerating problem over the last three or four years. As I said, it is not exclusively in the core curriculum subjects but pretty much in every area to varying degrees."
Mr Foulds believes there are several factors causing the shortage of recruits. They include a slight upturn in the economy which means there are more alternatives in the job market and the sometimes negative portrayal of teachers in the media.
He added that despite a better than expected comprehensive spending review settlement for education which safeguarded sixth-form budgets as well as those for five to 16-year-olds schools were still facing significant financial cuts.
According to the highly respected Institute for Fiscal Studies, these could amount to 8 per cent. The cost of pension payments and national insurance contributions have both outstripped inflation.
"It means headteachers are having to look at the cost of everything and inevitably there will be increased class sizes and a reduction of existing teaching staff," he added.
The ASCL, which is holding its annual conference in Birmingham next weekend, is offering a training package to its members on how to maximise the income from their schools, called Riding The Financial Storm. In the case of Mr Foulds' school, it generates enough cash from the hiring out of its sports facilities to pay the wages of about three teachers.
Mr Foulds will be making the plea for more cash for schools just before Ms Morgan addresses the union's conference on 5 February. "I know we live in austere times," he said, "but we still have to make the case for more resources. It is vital."
A spokesman for the Department for Education said: "As part of our drive to achieve educational excellence everywhere, we want all schools to be able to recruit high quality teachers.
"It is disingenuous to suggest our approach is not working – despite the challenge of a competitive jobs market, the proportions of teachers with a top degree has grown faster than in the population as a whole and there are more teachers overall."