Tackling in schools rugby should be banned, health experts say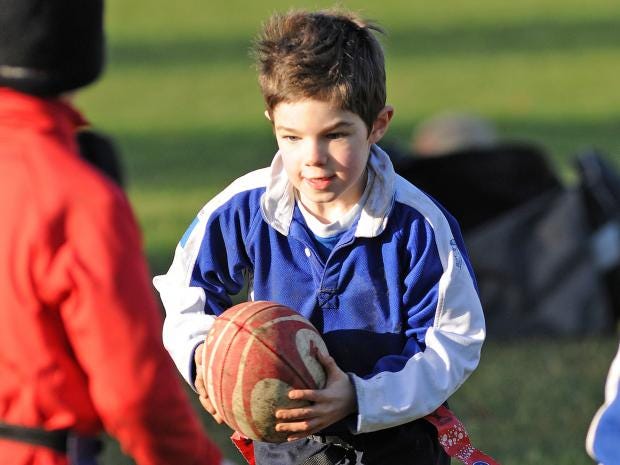 Traditional school rugby could become a thing of the past under plans put forward by health experts to ban tackling in the children's form of the game.
Fears that children are being put at risk of potentially fatal head and spinal injuries have prompted more than 70 doctors, health and sports experts to call on the Government to remove all harmful forms of contact from school rugby.
The concerns are raised in a letter sent to ministers, chief medical officers and children's commissioners published on 2 March.
The signatories suggest that schoolchildren should be restricted to non-contact forms of the game such as touch rugby, in which the person with the ball is stopped by being tapped rather than tackled.
Tackling and scrums pose too great a risk of fractures, concussion, dislocated shoulders, spinal injuries and head injuries for under-18s, they argue.
These conditions can have "short-term, life-long, and life-ending consequences for children", the health experts say. "A link has been found between repeat concussions and cognitive impairment and an association with depression, memory loss and diminished verbal abilities, as well as longer term problems."
Signatories include prominent academics such as Professor John Ashton CBE, president of the Faculty of Public Health; Allyson Pollock, professor of public health research and policy at Queen Mary University of London; and Eric Anderson, professor of sport at the University of Winchester.
The call for a change to the way rugby is played in schools is supported by Dr Fiona Godlee, editor in chief, the British Medical Journal.
"The evidence is growing of serious injury and lasting damage to school age children who play tackling rugby. The scale of the problem has been hidden by the failure to collect and analyse national data. With more and more girls now playing rugby as well, the problem is likely to worsen unless something is done," she said.
The demands come amid growing concern over the risks of the game, highlighted by the death of 14-year-old Ben Robinson, from County Antrim, who died after suffering a brain injury during a match in 2011. Studies published in the British Journal of Sports Medicine last year revealed that a child playing rugby over a season of 15 games faces a 28 per cent risk of injury, and up to two players in every school or youth team will suffer a concussion.
Rugby is compulsory in many secondary schools in Britain, with even more children set to take up the sport as the Government aims to have at least 2,300 new school links with rugby clubs by next year.
Responding to the demands for tackling to be taken out of school rugby, Neil Roskilly, chief executive of the Independent Schools Association, said: "The vast majority of parents recognise that sport at school brings life-long benefits in terms of health and wellbeing, and would not want their children to be totally immunised against the inherent risks.
A spokesperson for the Department for Education said: "Team sports, such as rugby, play an important role in developing character. They can help children and young people develop positive traits such as fair play, leadership and resilience and teach them how to bounce back from defeat, how to respect others and how to work together in teams to achieve a goal."
In a statement, a spokesperson for the Rugby Football Union (RFU), the governing body for rugby union in England, said: "The RFU takes player safety extremely seriously and this is at the core of all the training we deliver to coaches, referees, medics and the players themselves, at all levels of the game."